So today I was visiting with my bird friends when I saw a little girl finch having a lot of trouble moving from place to place. She could barely hop around. In fact, she was using her wings to steady herself while she moved along.
Well, some meanie finches were teasing her and chasing her, and many times she just made it to a little hiding place. When the meanie finches went back to fighting over space on the thistle feeder, she'd come out again and peck around for some fallen seed.
I called to Mom because I thought the little girl finch was sick. Mom and I watched her for a while and Mom said, "Look, William, she only has one leg. Poor little thing."
Well, it was true! That's why she was using her wings to try to keep from falling over every time she hopped. Mom went outside very carefully so the little girl finch wouldn't get too scared and she put some seed on the ground for her to eat.
Some time later I caught a glimpse of that intruder cat in the yard and let Mom know. She checked the back yard and the front. And when she went out front to make sure that cat hadn't taken the poor little girl finch with the one leg, she left the door open.
Well, you can guess what happened next.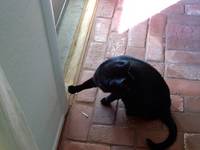 How much time do I have?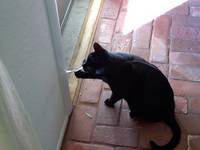 Mmmmmm, I can't help myself!