You know that we usually nap with Mom on the weekends. Well, she had to hunt so much that I finally gave up waiting and curled up on the bed without her. It's the best place in the house to sleep, even without Mom. There's one of those memory foam things hidden in it and it just cradles me in complete comfort, relieving all my pressure points. In fact–and don't tell my mom–it's more comfortable than she is.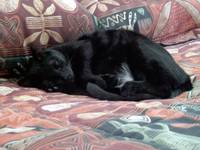 I dream there's memory foam
to sleep on everywhere.