OK, I'm doing this only for
Mitzi
, so probably no one else should read this.
My name means "determined protector."
I'm not much of a talker. I'm the strong silent type, even if I am kinda little.
You have to get very very close to me to hear me purr because I have a very tiny purr.
My tail stands straight up when I walk and sometimes it curls at the end, like a question mark. I also have a tiny bend at the very end because my biological sister was all squishing me when we were in the womb.
When I nap I dream of a certain silver girl.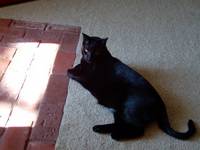 Hi Mitzi.