Happy birthday to my bro Eddie. He's 16 now, more than
five times
older than me! He got a nip toy from his sweetie pea Shilgiah, treats from Aunt M, the crinkly paper and birthday bag those came in, and a Mammals CD from Mom. Oh no, I guess the CD was for Mom. (Although I don't know why. We're mammals, too.) She got Eddie lobster.
AND, we had a celebration dinner of real tuna! Well, not that we have fake tuna normally, but this was
Mom's
tuna. I was so excited, I didn't even mind that Eddie got most of the tuna juice in his serving. And I sure didn't mind that he didn't share the lobster.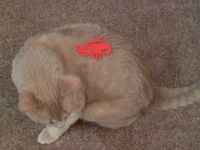 Eddie gettin' jiggy with his birthday lobster.

Happy birthday, Bro. I'm glad you didn't throw up today!