Eddie here. The good boy. The responsible one. I'm the only one not in the corner tonight.
A couple of weeks ago, Mom came home from hunting one day and found the two cupboard doors that don't have those WMD-proof latches on them open. She didn't think very much about it. After all, those doors are kind of sticky and not easy to open. And besides, there's nothing but pans in there, right? Right?
Well, tonight Mom needed to get a little pan out, way way in the back. That's when she saw something she didn't recognize. We got out the flashlight and looked closer. It is
so
good I was there to help, because I thought she was going to fall right over and die right there and be dead in her deadness.
Well, somebody––let's call him "William"–and his two sisters–let's call them "Olivia" and "Caroline"–all got in there that one time and had a complete field day. "William" and "Olivia" and "Caroline" all had a paw in the havoc and ruination. And the fact that there was a half-wall between them and it didn't stop them.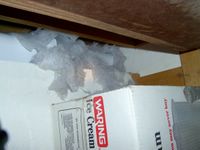 Our BRAND. NEW. DISHWASHER.
With HALF. THE. INSULATION. SHREDDED.

All I can say is EEEEEEK. (All Mom can say is
EEEEEEK
.)
Edw.