Well, Caroline and I got so excited when this friendly cat came to visit. Would you believe it? She got right up on the brick ledge, right at our bird watching window! We got a really good look at each other.
While Mom went outside to talk to the little cat, I thought I was going to swoon. She was so pretty! I talked at her too while my mom held her hand out and the pretty cat got almost close enough for a pet.
Then Mom came back inside. She said, "Sorry, William. That cat is a little boy. With quite a set of hoo-has on him, too."
What in the world is a hoo-ha?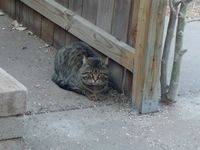 He was probably really eyeballing my sis, then.
Sorry, pal, you're way out of luck.