OK, I promised I'd do this fun thing and also that there'd be pictures of Caroline. But me first.
Favorite place to sleep? Under the comforter with my mom.

Favorite music? Hmm, I don't think I have a preference. I'll listen to anything Mom listens to.

Favorite toy? Olivia. Oh, wait–Mom says I can't say that because Olivia is not a toy. OK, then, sponge rubber balls.

Favorite food? Baby food! But it can't have any vegetables in it because I don't like vegetables.

Favorite human? Mom!

Favorite game? Chasing Olivia.

Favorite window? The one with the shelf Mom put up for me, the same one where Olivia's chewed up the blinds. I get to stretch out in the sun and I don't fall off the sill.

Favorite naughty thing to do? I think it would have to be attacking a roll of TP.
Tag, whoever hasn't done this, you're it! OK, now the pictures!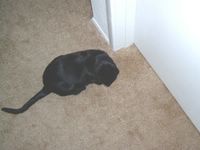 Me again! I'm keeping Caroline
secret company.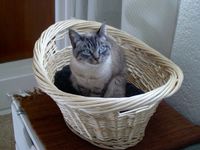 Here she is, feeling better.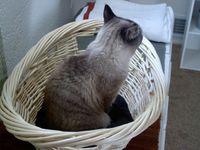 She likes Eddie's basket.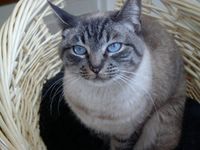 My sis Caroline.