Dinner has become a race to the finish.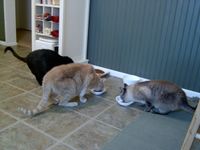 Here we are. It starts off OK.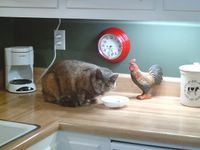 Olivia always has dinner with her pet chicken.

Caroline always wins the race because she vacuums her food. She's probably
ninety
times faster than Olivia used to be! Then, like two seconds later and bold as you please, she pushes Eddie down one bowl and he in turn pushes me off the food line altogether. Then we realize what's happened, get into a snit and leave. Three nights in a row this has happened. So tonight Mom moved Eddie's and my dishes somewhere else so we could get a little more than half a bite.
Caroline is distracted with a second helping.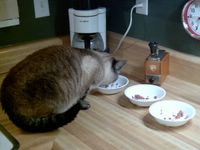 But the dish move had her fooled only for a little while.

And to think I called Olivia an eating machine! Guess it's good that we actually prefer dry food to canned. And also that if Caroline was a locust in another life but is a cat now, she must be progressing.