Mom came home from hunting and then had to go hunting again and I wanted a treat or nine and she wasn't here so I got this down from the secret hiding place but I couldn't get the lid off so I bit it.
But then she got home before I could finish the job.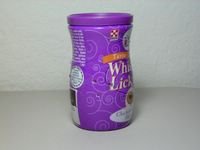 It's just a matter of time.