Now that it's November and the time is different and it's getting much cooler and heat is going to cost like a million cat toys, Mom's been checking over the house to see where we can save heat.
It
might be
a little drafty around the front door, and Mom found that puzzling. So she checked it out. Well. She wanted to know why I shredded the gasket. I looked but I don't have any idea what a gasket is.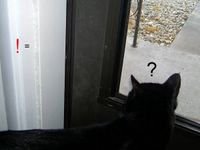 OK, well, maybe I did do something
to that white rubbery thing. But
I'm going to pretend I didn't.