So this evening I was not doing much of anything when I heard this racket at the kitchen window, the window where I sit and watch all my little birds. Mom came by to look too. There was a giant pigeon out there on the brick sill. He must have hit the window by accident.
He seemed kind of stunned but he wound up on the table on our patio. I've never seen a pigeon before, so this was pretty exciting. He's very big! I talked and talked and talked to him, but he wouldn't say anything. Mom said it looked like he had an injured wing and maybe that's why he hit the window. Or maybe he just got disoriented and hurt his wing when he hit the window. Anyway, we watched as he walked around a little and pecked at the table. So Mom went out and slowly, slowly put some seed on the table for him. He didn't fly away, but he still hasn't eaten any of it yet.
Mom's left the back light on and the blinds up so I can keep an eye on him overnight. I hope he'll be well enough to fly tomorrow.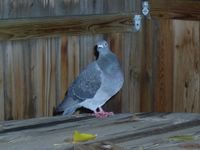 Resting.