Mom finally noticed that I had been gnawing on the pencil she keeps with other stuff in a big bowl on the counter. It was about time! She used to hide her pencils because I've already chewed on about 59,000 of them. But I guess like the paper towels, she thought she had me fooled by hiding it in plain sight.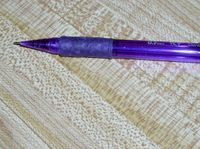 I love those comfort grips!

If only I could figure out where she keeps the chew sticks, I'd just bite open the bag and help myself. Everybody knows I've done it before with other treats. Once in the old place I let myself into the cupboard and opened up
two
bags of treats and placed them on the floor where my brother and sister could have some too. They thought that was very very clever. Mom wasn't all that amused, though, and we even left some for her! You'd think she'd appreciate my self-reliance, wouldn't you?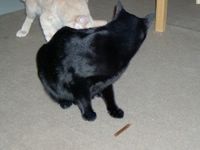 Eddie tries to get some chew stick action.
(I don't think so.)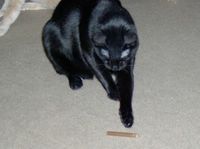 It's a toy! It's a chew stick!
It's two treats in one!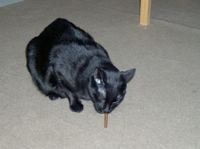 Mmmm.