Eddie first met Shilgiah (Aunt M's baby) on a rainy October night a few years ago. Back then, it was just Mom and Eddie and Sophie in a nice second-floor apartment with trees at the windows. I lived there too until we got the house, but that was way later.
Mom had the windows open to let some cool air into the apartment when suddenly she heard Eddie go into his convulsive-sounding THERE'S-A-CAT-IN-MY-YARD howl. And then Sophie joined in the howling. When Mom investigated, there was Eddie and Sophie on the desk in the second bedroom, all puffed up and screeching at a cat in the tree right outside the window. A drenched little white cat crying right back to get in out of the rain. But at the rate Eddie and Sophie were carrying on, you'd think the little white cat had her own key and let herself in, bold as you please!
Mom closed the window and the blinds so that my brother and sister would calm down. She didn't know the little white cat didn't have a home to go to, just figured that her parents were out and she'd simply got caught in the weather.
Well, she saw the little white cat a couple of times over the next few weeks, a very friendly girl who would chat, roll on the ground, purr and allow Mom to pet her. Then she stopped coming around. Mom thought maybe she had moved, or hoped so. Little cats sometimes get into terrible trouble when on the loose, possibly facing cars or coyotes. I know, because I too had lived outside for a hundred years myself before Mom took me in and it was a very scary time.
It wasn't until way later that Mom saw this little white cat in the company of the woman who lived downstairs. Now the little white cat looked very well-cared for and happy. The unusual thing was that this woman walked with the little white cat, and the little cat had her own harness and leash!
Every day when the little white cat would go walking with her mom, Eddie would get into the window to watch. No longer did he make the threatening noises he usually does when there's a cat in his yard. He'd always just watch her as she walked by or paused by the tree or chewed at the grass.
So this is where I come in. It was because of ME ME ME that the little white cat's mom and my mom got to know one another when they rescued me and my cat family. That's also when my mom learned that the little white cat had been homeless and her mom had taken her in. And it was ME who told Eddie the name of the little white cat he'd been adoring from the window. Her name is Shilgiah–which is perfect because it means Snow White–and she is the just prettiest little girl.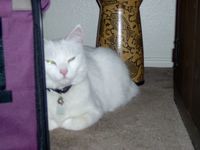 Eddie's sweetie pea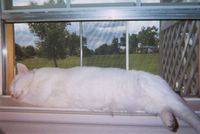 A snooze with a view