So Mom says that when she went to the cat food place she got Eddie a new bowl for his special feeding times. She hadn't planned it; she just saw it and liked it because it was red and had cats on it.
Do you know what I think? I think the designs look suspiciously close to
Kukka's
drawings. And as long as this new bowl wasn't planned, it should belong to me. Because, you know.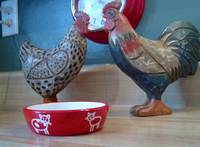 Even Olivia's chickens agree.