So when Mom got home this evening and called out "Hi boys!" like she usually does, Caroline was nowhere to be found. (Yes, she answers to "hi boys." I am so rolling my eyes and making cuckoo circles near my head with my footie.) So Mom went back into Eddie's room to find her intently looking out the window. When Mom looked out, she saw what Caroline was staring at.
Mom called to me, because at least
somebody
understands that it's
me
the birds come to visit and
nobody else
and that I am a friend to all birds and Caroline would probably eat one if she got a chance. She just better not be getting ideas about stealing my bird buds, is what I say. Especially since now's the time we start to get tons just passing through.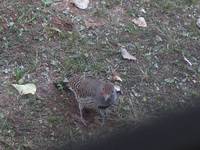 "Hi, William! I'm sure glad to see you!"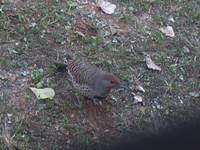 "I'm here to visit and get a bite to eat
but I don't want your sister eyeballing me."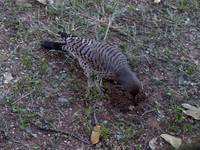 "See? I'm looking for grubs."