Here I am looking out our front door. Mom left it open for a little bit after she got home so we could see stuff. Our trees have only just started to rain a few leaves here and there, and she knows I like to watch.
Of course, I can also secretly scope out biteable weatherstripping, too.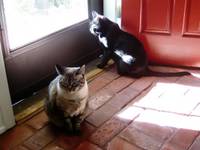 Now, if only Caroline would move on
so I can get to it before Mom sees.