So awhile back my mom came home with these shoes that are supposed to be 'garden clogs,' or some such nonsense. She wears them in the house, though, because she says they're comfortable.
Well, they're a bright orangey-yellow and they make her feet look like great big duck feet!
Maybe it's good that she doesn't wear them outside where everybody on earth could see. I'd have to start wearing a bag on my head or something!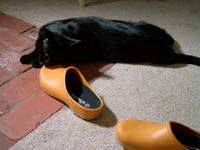 Stupid, but chewy.
(OK, secretly, I love them!)