After dinner this evening I was sitting in the kitchen window visiting with all my bird friends while they had dinner. Suddenly there was a huge commotion and everybody flew away! I'm not sure what it was that scared my friends off, but all that wing action startled me too, and when I leapt out of the window, I knocked over the bottle of dishwashing detergent into the sink. (Luckily my mom is used to this kind of excitement and keeps the top pushed down.)
Anyway, when I went back to investigate I found the patio completely empty. But then, THEN, look!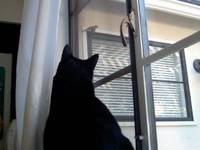 How much is that birdie on the window?