So Saturday Mom noticed Olivia paying very close attention to the silk plant we had in our little chicken bowl. This was the centerpiece of our dining area now that we eat on the counter because Eddie can't quite get up there and he can't inadvertently eat crunchies and then go off like a fountain on the carpet somewhere a bunch of times. [Phew.] Anyway, I really liked it because it was pretty and it lent a kind of ambiance to our eating experience.
Well. Next thing you know, Olivia actually bit off one of the little miniature leaves. Bit it right off and started
chewing
on it! Mom rushed over to her and opened her mouth but just missed grabbing it. Olivia swallowed it. She
ate
the little silk leaf! Like it was
real food
or something!
"Olivia, why did you do that?" Mom wanted to know, taking the plant out of the bowl to put in some place we can't find. "Why would you eat such a thing? What were you thinking?"
And Olivia said, "I had to feed my kangaroo."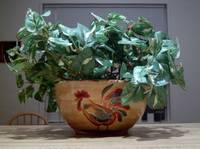 Then.

Now.

(Everything turned out OK, if you know what I mean. Except for just having the empty bowl there now. I don't know why Olivia has to wreck stuff for all of us.)