It's me, Caroline!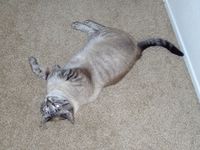 OK, late this afternoon Eddie had to go to the cat fix-it place and had to get into the troll box to do that. Well, he and Mommy were gone about an hour and we were all starving waiting for dinner and everything and then Mommy and Eddie-in-the-troll-box came home. Well, you know what happened. It happens every time.
Mommy got dinner ready for us right away, but William! He was in full troll mode, just for a change. He was hissing and growling and making all kinds of noise. Mommy had to put Eddie's dinner in another room just so my poor big big brother could eat in peace!
I think that made William even trollier. He hissed and growled at Mommy!
And you know what? THE DREADED WATER BOTTLE. AGAIN!
–Caroline!