So my sister Olivia the little piglet eating machine with the kangaroo in her had a birthday last week. She's two-ish now. And finally,
finally
, she's stopped eating everything in sight. So I guess we can stop calling her an eating machine now. But she still has the kangaroo in her and she can still get pretty bitey over it. I guess that will never change.
We had a special dinner to celebrate––Sheba shrimp (
mmmm!
). And Aunt M. brought by some treats and a toy and a little pink and white fleecy blanket with hearts on it that Olivia just loves. She's such a girly girl. And while she was all sleeping on it? We all got to play with the toy and have some treats! (OK, so she got to do the same thing first.)
AND, I don't think she bit Mom all day, so it was good!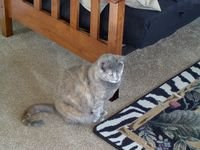 Two-ish Olivia.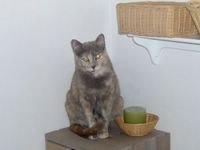 New-ish Olivia. (12/94)