For about a week all my birds must have been on break too. Oh, once in a while I'd see a dove or two, but the rest were just not here. Mom even got a new thistle feeder for my finch friends and still no one came by. And my friends the Squirrels? I don't know where they went either.
Well, my birds are finally trickling back, but it's still not like it used to be. And not only that, it's been ages since Mrs. Squirrel and I played a game of canasta.
I sure hope it isn't Caroline's new boyfriend scaring them away–you know the one. He's been visiting regularly. Sometimes he just sits on our back wall and moons at my sister or sits on our shed roof and moons at my sister, but sometimes he comes right on to the patio and
hangs out like we're all buds
. Why, just the other evening Mom found him resting bold as you please on that new bench she and I put together but wouldn't let me help paint. And there's Mr. Blue Bell, all stretched out like he lives here! Right on OUR FRONT PORCH.
I told him to go home.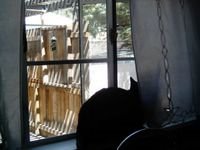 Hi little finch.