Today Mom got up real early and pulled up all the blinds. She called to all of us to come and look. It was snowing!
It stopped about mid-morning and cleared up but it was cold and very windy, making noises we don't like very much. We snuggled with Mom for most of the afternoon while she read and napped. Everybody was getting along just fine until Caroline got a little too close to Olivia and Olivia hissed and bopped her in the head. Then I started to give Olivia a bath and couldn't resist giving her neck just a little love nip or five, which she didn't like either. Mom went for a walk right after that, so we all scattered.
Mom was back soon after. She said it was freezing freezing freezing. By then the snow had long since melted but the wind was still howling. I think though she just missed us.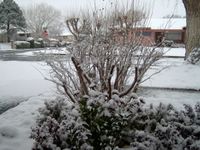 About two inches.