We got valentines in the mail from Aunt M. and Shilgiah!
Of course, Eddie got the big one, since Shilgiah is his sweetie pea. But I didn't mind one bit, since this has never happened to me before!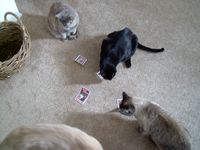 Thank you, Aunt M. & Shilgiah, times four!

Oh, and Mom? I'll always be your tiny Valentine. (Purr purr purr.)
Hope everybody had lots of love and pets!