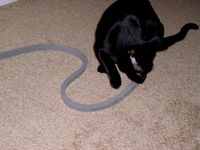 I found this great gasket to play with!
(OK, maybe I had to look for it.)

But, see? I had to play with this. Except for the sticky side that kept getting stuck on my little footies, this was a blast!
Until Mom got home from hunting and found me playing with it. I tried to stand really still so she wouldn't see me but it didn't work. And then she hid it in the room we're not allowed in without supervision, the room which used to be mine. MY room. Again the unfairness!
And, oh yeah. I remember now. Today's my
one year blogging anniversary
!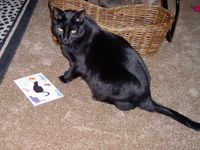 Aunt M. even sent me a card with
a tiny boy black cat just like me on it,
just for the occasion! See? And it was
addressed just to ME and everything.