We sure do appreciate the kind words. I don't know if our new sister can read or not, but I'm sure she can't get near any computers at the cat fix-it place anyway. But I'll be the first to tell her about all our friends and all the well wishes she's gotten!
Our vet called Mom this morning and recommended that she stay another night, mainly so she could continue with the nebulization treatments. Olivia says this is where they stick you in a little chamber and you get to breathe in warm moist air with medicine in it and it really does make you feel better. Normally Mom would go visit any of us if we had to stay overnight, but this time she wouldn't get to see her anyway. So we're all hoping that maybe tomorrow Caroline will come home. Ooops! I just let out her true and secret name!
So I guess I could put her picture out there now. It doesn't show off her coloring or her eyes very well, but she is kinda pretty. (But probably only because she's related to ME now.)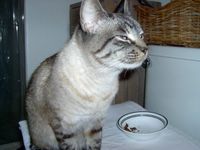 Sneezies!