I'M JUST KIDDING. Well, I did get shot but I didn't feel a thing! Honest! I didn't even flinch. Actually, I didn't mind the whole thing at all. My doctor always says she loves me and she gave me a pretty shiny blue charm because I was such a good good tiny boy. Of course I know my mom loves me a whole bunch too because when I got home, I got a couple of treats. Then we all had
lobster dinner!*
as a really special treat because I'm such a good good tiny boy. I have no idea what lobster is because I've never had it before, but boy it sure tasted good.
And you know what? Nobody was a troll to me** just because I had to get into the troll box.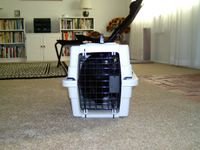 I kinda like the troll box.

*Mom says it was Sheba.
**Mom says that's because maybe
I'm
the troll.