No, not
us
. Besides, the last thing Mom always says to us when she goes out hunting is, "No fighting and no biting."
No, it was my new pet! I have a little preying mantis now. She's very special because she not green like other little preying mantises. She stays in the front garden and keeps my pet snails company. Usually she sits in the butterfly bush, but today she was in the Russian sage. And you know what? A little honey bee was all buzz buzz buzzing around the Russian sage, having some lunch, and bam! My pet reached right up and nabbed him! It was amazing! He put up a pretty good fight, but she won.
And...she ate
the whole bee
!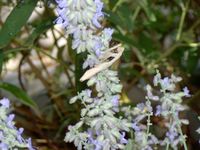 Mmm...tastes like sparrow!