So tonight he's getting his toes done, and his coat all brushed, and his ears cleaned (which he
loves!
by the way) to get ready for his big day tomorrow. A trip to the cat fix-it place for a checkup!
Everybody likes him so much, the last time he went he came home wearing a little bandanna that one of the girl techs who's sweet on him gave to him. I told him I thought it looked pretty silly, but really I was a little jealous.
I
never got anything like that.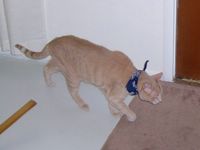 Eddie in his bandanna.