Two years ago today my mom saw me for the first time ever. I wasn't such a WMD back then – I was pretty timid and really scared, too. You may remember I told you that
my whole family had been left
in the sweltering heat. While my mother and sister had taken shelter under a car, I made myself scarce. In fact, it was Aunt M. who told my mom that there was another little cat, a little black cat. That was
me
!
Anyway, the day Mom finally saw me, I was way up high in one of the trees outside her window. I was so little then, you could barely see me up there. And no, I wasn't going to come down. I thought all people were mean back then. So I waited and waited and only climbed out of the tree when no one was looking. And then promptly went back into hiding.
Well, you know the ending to that story. I'm so glad I had Aunt M. and my mom to rescue all of us and show us that not all people are mean. And you know what else? I am
still
one lucky, happy tiny boy!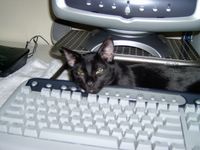 I was such a TB back then that I
could fit under the monitor stand
.