There was a fly, you see. I had to get it, no matter what.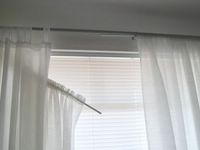 Uh oh.

Mom was very cross with me. I'd jumped up and clung onto the curtains long enough to bend the rod and make it come apart. (Well, I may be a tiny boy but I'm 11 pounds of WMD.) I fell off but I didn't think she wanted to hear that.
And I didn't even get the fly.
At least I didn't pull the brackets out of the wall this time.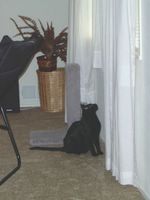 I know it's still there somewhere!