Know what my mom says to me sometimes? She says, "Mind your p's and q's, tiny boy." What are p's and q's? Have you ever heard of such a thing? She never says this to Eddie or Olivia, so I guess they don't have these p's and q's. Are they something secret that only I have? Are they something special because I'm special, or what?
WHAT ARE P's AND Q's?
Does your mom or dad tell you to do stuff in a secret language like this?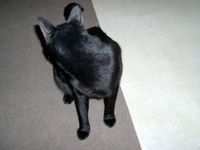 What?