I know a secret of Mom's. Since we got Olivia from the shelter and they weren't altogether too clever about estimating her age (they thought she was
seven years old!
), Mom thought she was more like seven
months
old. Well, if that's true, Mom kinda missed her birthday. BY A MONTH!
But Mom later thought that maybe Olivia was more like six months old when she came to us, which would make today right on time.
I don't know. I had to wait that whole EXTRA MONTH without her new toy!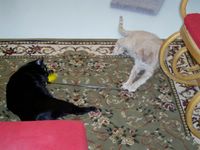 You know me and feathers.
But even Eddie wanted to play with this.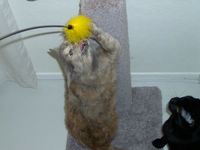 Mom finally intervened for the birthday girl
so she could have some fun, too.

Then again, I know a secret of Olivia's, too. When she got home with us she was sick and had to go to the cat fix-it place almost right away. She was not feeling well enough to tell Mom her true and secret name. Since Mom couldn't take her in nameless, Mom decided on the way there that "Olivia" would work. The name stuck and Olivia never told her. But she told ME that her true and secret name is...Charlotte!
I think I'm going to keep both those secrets. I can see them coming in handy right around my birthday, which is only about two and a half weeks away!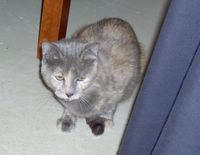 Olivia upon arrival.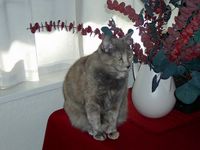 Olivia the one year old (and little
piglet eating machine).

Happy birthday, sis!