Along with everybody else, I'm able to leave a comment only every squillionth try. So I think I need to give up for tonight before I get all cross and bite Olivia or something.
Anyway, Mom got my bro a little stool to help him hop up to the regular stool and then to the counter where he gets his special meals. He was having a little trouble making that big jump and this has made it much easier for him. Plus, I like sitting on it too, when he's not using it. Wasn't that nice of my mom?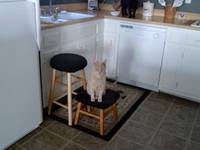 Eddie on his new stool (and me in the
background, too!), waiting for dinner.