So my bro's girlfriend Shilgiah moved to a different place and Mom went to visit her and Aunt M. We didn't go because we don't like to ride in the car. Anyway, Shilgiah lives way up high now like we used to and she gets to see the treetops up close and birds flying by and the mountains out of one window and the city lights from another.
Mom says she's still getting used to the new place, because she's only been there a few days so far. Mom says Aunt M. has almost everything unpacked...including a
whole basket of tp, just right there
.
Oh, I wish I had gone now. I could've stood the car ride for that.
But instead I sat in my own window and watched the rains. And I got a different treat when it was all done.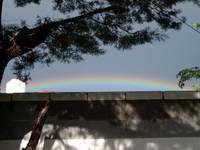 I bet there's a pot of tp at the end of the rainbow.