So we were all having a peaceful dinner when there was a great big crash.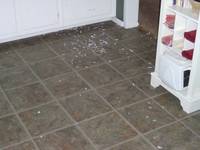 It was like an IED--improvised explosive dish!

Since our bowls are supposed to be unbreakable and since, like I said, this was my favorite one out of all the same ones we have, I made Mom look at one of the others to see if we could figure out how Olivia in her exuberance to eat could have managed this.
There were things on the bottom that looked like three innocent marks. I had to tell Mom what it secretly said because my eyesight is much more superior.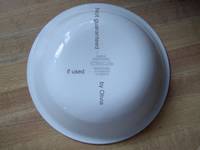 This certainly explains it.

Well, I'm thinking Olivia the little piglet eating machine having to eat in the normal spot is not enough, now that we have
three
bowls for the
four
of us and it's just
so lucky that none of us lost an eyeball
because of her pigletishness. I'm thinking someone should not get dinner.