So Mom ordered some parts for her sewing machine from far far away. For me, it was kinda of like free cat toy with purchase, since I got the box to get all busy chewing on. There was also newspaper packing around the parts. Mom smoothed it all out to put it in the recycling and was looking it all over, wondering where it came from.
Now, you know my bro loves newspaper. So I left the box for a few minutes and got up on the counter to take a look at it too, see if it passed my inspection to give over to Eddie. And then I saw it.
All those squillions of hours Mom has spent in the yard doing stuff when she could have been spending time with me? My bro's secret life and he NEVER SAID A MEOW.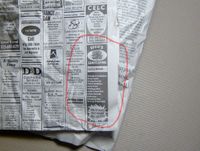 Brothers!