So I had a toy stuck on my footie yesterday and I couldn't get it off. It was one of those sponge balls, my favorite toy right behind my red and white octopus. I get a little excited playing with it.
I kinda wanted Mom to get it off for me but then I wouldn't let her. I was embarrassed because she'd already done it once. And she was laughing at the way I was walking. I'd take a step with the ball on my footie, try to shake it off and then take another step. Over and over again.
Well, I sure couldn't write very well last night with that thing stuck on half my typing toes.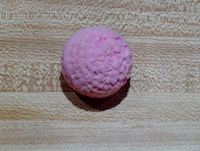 The culprit.