Aunt M. came by with treats and toys and hats for the girls! Caroline wouldn't play at all and Olivia pretended to be asleep.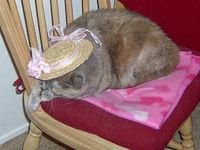 In her Easter bonnet.

Here I am with my basket. It's got eggs and a toy!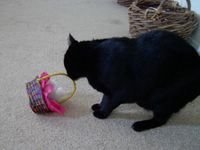 Something good's in here!

I got an egg out all by myself. And you know what I discovered? If I bite it just right, the egg opens and there are...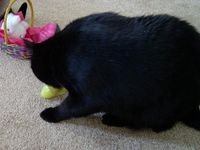 TREATS INSIDE!
And I ate them all!

Thanks, Aunt M.! I still have a lot more eggs to go, and then comes the really really really fun part–hiding the empty eggs! And I promise I didn't bite up the girls' hats, even when Mom thought she'd be funny and try to make me wear one of them. (
Moms!
)