We had to spend some time in my room this morning while the alien–I mean the plumber–came by to fix things that I didn't even break. He actually fixed the shower, which somehow stopped turning off on Monday. I really wanted to help but Mom said no, I was too little, and besides, she didn't want any of us to get hurt. So we waited and waited and waited some more. We don't usually get to be in my room without Mom there, but we were very good and didn't tip anything over or get into any drawers or try to pry ourselves into the closet or anything. I don't even think the alien knew we were there!
When he left and Mom opened the door to let us out, Olivia and Caroline and I got all excited and sniffed all around. But Eddie made a beeline to Mom's bed to hide under the comforter. He really doesn't like aliens. I'd make fun of him for being such a big baby but I think he was abducted when he was really really little and was having flashbacks. Mom had to assure him 90 times that it was just us again before he would come out.
Me, I just got pretty worn out with the disruption in my routine, so I just did what
Kukka and Brach
did–I snoozed with my sis.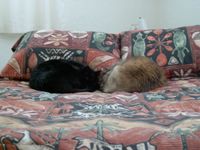 My house this morning
Discombobulation is
Very tiring!