Finally, finally, we got to open our Secret Paw gift from Timmy!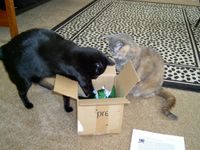 Come on, Olivia, give me
a paw with this.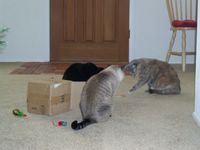 I take a break from the feather
toy (my favorite!!) and just watch
Caroline and Olivia.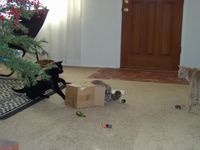 We loved everything,
even the box!

We got a really nice note and a card and my mom got a neat candle from Timmy, his Mom and Grammie and even Tangie! This was just so nice! THANKS EVERYBODY! Our celebration was made extra
extra
special!
We hope everybody had a very merry Christmas.