But not from the scary giant police dragonfly. No, this buzzing usually begins when the sun starts to go down and lasts for a long time into the night. It's very loud, too, but not scary loud like those other things.
I asked my mom what was making all that racket. She told me it was a bunch of boy cicadas all talking to one another. I thought that was pretty silly! What on earth could they have to talk that much about, every night?
Mom said they sleep in the ground for 17 years. No wonder they have so much to say! That's longer than my brother is old!
Now I wanted to see one of these old talking boy bugs. Well, guess what? When Mom was doing some gardening, she found one for me! (He was all talked out.) She actually brought him inside so I could look at him up close, but you know me–I thought it was a toy and tried to play with him!
Mom didn't want me to do that. So she put him back outside and set him on a rock. She took a picture of him so I could look him at any time I wanted.
But really I wanted to eat him.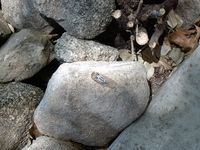 Jon Cicada.