Mom got lunch at Wendy's today. She sat at the breakfast bar to eat it because she knew if she sat at the table both Eddie and I would be all in her face. While I can still jump up to the bar with no problem, it's a little high for Eddie these days.
So here's my brother, talk talk talk,
I want a taste
,
I want a taste
, all the while the two of us circling like sharks. Finally Mom caved in and held out a small piece of hamburger...for
him
! To add to the insult, he didn't quite get a bite on it and it
fell on my back
! Mom thought that was funny. I didn't. He finally got the piece and I got just the aroma of it!
So naturally after three times of him getting little bites I turned down the piece she offered me.
In the meantime, Olivia's been bugging me and bugging me to let her ask a question. So here it is.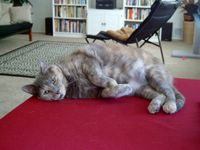 Does this kangaroo make me look fat?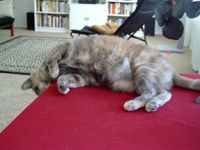 No, don't tell me.

Kangaroo
. Pfft.