I think I should be the new spokescat for Subway. Why, just today I had a six inch tuna sub on Italian, no cheese, with a little lettuce and bell pepper for lunch! It's my favorite favorite
favorite
Subway sandwich and I highly recommend it!
See? I could do it.
OK, maybe I didn't really eat the whole thing. OK, maybe it really wasn't all for me. OK, maybe it was really only a little bit that Mom shared with me. But I still really loved it. And I am so sure I could eat a whole one all by myself.
As long as Eddie didn't insist on getting some too.
Well, he could have the bread, I guess.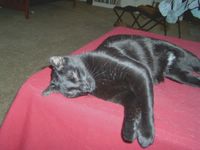 Mmmmm, tuna satisfaction!