I am so lucky! My Aunt M gave me this book for my birthday. Even though I'm too little to read, my mom has read it to me a bunch of times already. We love it!
In the book Olivia is a little pig (I hope Aunt M isn't trying to tell me something) with a mom, a dad, a little brother named Ian and pet dog and cat. The story tells all about the things she's good at. There are a lot of things!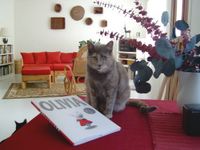 This is my book. It even has my
name on it!

Olivia's little brother sometimes bugs her a lot, kinda like William does with me. This is my favorite page. It says, "Sometimes Ian just won't leave her alone, so Olivia has to be firm." Olivia has a scary mask made out of a paper bag on her head and she's scaring away her pesky brother!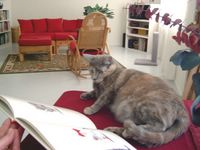 I wonder if Mom would help
me make a paper bag mask...

If you've never read this book, I think you should get your mom to get it for you. Or maybe you have a very special aunt like I do! Anyway, you'll both laugh a lot because Olivia is so much fun! (Olivia, by Ian Falconer)