My Aunt M. gave this to me for Easter. Actually, she got me three but I think I'm supposed to share. Anyway, this is a ladybug that rolls. And has a secret compartment for nip. I love it! And my favorite way to play with it is to sit on it! Then I fall over and kick it!
Mom always laughs at me when I do that, especially the sitting part. She wants to know if I'm trying to hatch it. So after that of course I wasn't going to pose for the silly camera.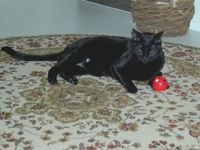 My ladybug. And so what
if I try to hatch it.