I am two!
Mom got me Cat Play Cubes. There are two to play in, each with three holes to climb in and out of. They can even be attached together side by side to make one big place to play in. These are fun!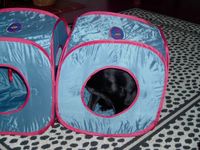 Checking it out.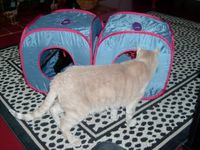 Eddie sees me inside!

My Aunt M gave me a little blanket to sleep on. Thanks, Aunt M!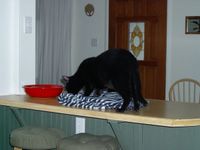 I liked it so much I tried to bite it.

And because I am a very special tiny birthday boy, Mom fed me a very special treat of ham and gravy baby food. I ate half a jar. Mmmm!
I am one happy two-year-old boy!