We did it! We got Mom exactly what -
I
- she wanted.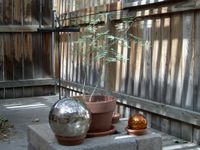 Mom's new gazing ball. We can see a
squillion birds in it!

And the girls got something for Mom, too.
Olivia's pet
Mom's rooster got a pal.

We napped with Mom and gave her kisses and head butts, all day! As it turns out, she didn't do very much with the broken tree bits from last week's storm except to make a great big pile, and most of that she'd done in spurts after hunting. So we had lots of time together. But do you know what now? We're getting another bad wind storm and once again it's raining trees. Mom had to move her new gazing ball and the little plant near it to safety. And once again, she's had to go out and pick up fallen limbs from the roadway. Kinda in again, out again, Mom again.
Tonight the wind is coming in from the opposite direction and with a cold front. That part's good, though, since it got into the 90s today. Me and Mom, we prefer naturally cooler temps to sleep.