So Mom finally turned on the heat last night because we were supposed to get a freeze. She even brought in the geraniums from the patio and put them in the Forbidden Garage! Anyway, as much as I love the warm air, it smelled all funny so I had to run from room to room and complain a lot. Mom kept saying, "It's just the heat for the first time, Tiny Boy," but I kept doing it anyway. I don't usually talk but I had a whole lot to say about that weird heat smell.
Anyway, it didn't get down to freezing after all, so all my little outdoor pals stayed safe. In fact, look who came by to visit!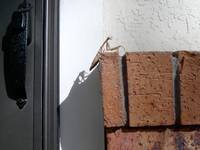 "Can William come out to play?"