Thanks, everybody, for leaving me so many notes! And Edsel, too, for posting that amber alert. I just needed a break and to take care of my mom. And my bro and my sisters, too. You know, my work is never done.
I'll be catching you up on all the news and visiting everybody again, but for tonight I have to tell you what Mom got me today–a Zoom Groom! (Thanks Edsel, again!) And boy, do I love it! So, if you haven't gotten your people to get you one, you need to. Right away. IT'S THAT GOOD.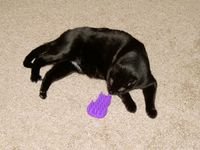 Almost as good as all my friends.